Mc Allister was a leading optical and lantern family that emigrated to the United States from Scotland in July 1775. Originally the family firm produced whips and walking sticks. In 1866 grandson Thomas opened an optical supplies business T.H. McAllister at 49 Nassau Street New York, offering a 136-page catalogue of lanterns and slides in the 1880s.
This is a slightly different version of the eight slides from the previous page. They probably have been produced by T.H. McAllister, Manufacturing Optician, 49 Nassau Street, N.Y. These slides measure 8 x 10 cm (3¼" x 4" and as you can see this time the titles are printed above the pictures. They are edged in black paper tape.

The original reading which came with the slides tells the whole story the slides are portraying. Here is a part of it so you can get an idea.



Stomach of a Hard Drinker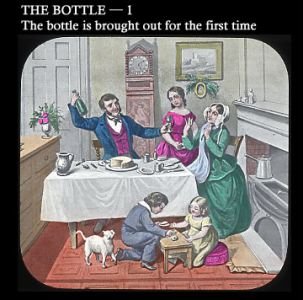 Plate No. 1 –The bottle is brought out for the first time.

This has up to the present time been a temperance household. For probably thirteen or fourteen years have husband and wife been living happily together, setting a right and proper example before their young family. Their happiness has been none the less on account of the absence of the black bottle. Evidences of plenty abound and show what skill and industry have been doing for years. Had they commenced their drinking habits when they were married, that cheery, comfortable, well stocked house would not have been there now to testify to the benefits of total abstinence.

We naturally inquire what was the origin of the evil? After such a long time of abstinence, what has induced the husband to bring in this black bottle? Is it the anniversary of their marriage? How many, alas! Have been led astray by the drinking customs of society. How many can trace their fall to a wedding party, to a christening, to a birthday rejoicing, aye, even to a funeral?

Learn from this picture the evils of home drinking. Think of the example set before these children. Instead of familiarizing them with the daily use of strong drink, should not parents warn their young ones of its dangerous nature? Would you allow your child to play at the edge of some roaring cataract, where, if he lost his balance, he would be hurled into that awful abyss below: Thousands of little ones have gone down a more awful gulf, born on the torrents of dissipation. Oh! Warn them of their danger ere it is too late, and, above all, remove temptation out of their way. Will the hand that would save from temporal death furnish the means of a more dreadful ruin?


Almost every lantern slide catalogue has its section of temperance hymns, motto slides, pictures and narratives. Among them stories with dramatic titles as 'Father dear Father, Come Home' and 'The Whisky Demon'.

One of the most famous contributions to the temperance cause was the series of engravings 'The Bottle' and its sequel 'The Drunkard's Children', by George Cruikshank, which appeared in a number of lantern slide editions.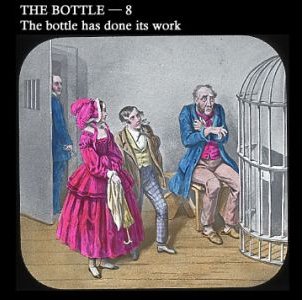 And a part of the story for slide No. 8.:

The bottle has done its work.

Thus the bottle has done its work and done it well. A happy home has been broken up; a mother and child have been cruelly murdered; a son has been drifted into the ranks of vice; a daughter has been shorn of her virtue and turned into the street, whilst the father, who introduced the bottle, has been bereft of reason, and is now a hopeless maniac.