The Junior Lecturers Series was produced by W. Butcher & Sons, London (1870-1906) under the trade name of Primus. The slides were sold as a set of eight in a cardboard box. The prize of each set was initially about two shillings but at the end of World War I the price had more than doubled. Size of the slides: 8,2 x 8,2 cm (3 1/4" x 3 1/4").

The complete series was divided into three series, A, B and C.

Series A was described as 'comic tales and nursery stories, with reading on the slides'. Series B and C had readings printed on paper lecture notes. Longer stories required two or more chapters, always multiples of eight slides. The glasses are fitted with a protective glass and black paper binding tape. The images were either circular or square with rounded corners.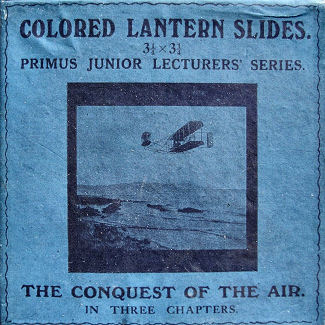 THE CONQUEST OF THE AIR (chapter III, Aeroplanes) is part 797 of the Junior Lecturers Series C (with Printed Readings).