This cardboard cut out is produced by SunWatch Verlag in Essen, Germany. In the series scientific cut outs amongst others the next subjects came out: The sextant, The periscope, A table planetarium, The microscope and .... The Laterna Magica.

With a little bit of patience and a tube of glue you too can build a real working magic lantern.

Retail price € 22,90
Contradictory feelings during the unpacking of the box. On the one hand a feeling of disappointment. The magic lantern on the photo did not look very realistic: the little chimney on the roof is out of proportion to the rest of the lantern, the slide holder is too narrow to contain real glass lantern slides, let alone the wooden framed slides, and -something that must abhor the real magic lantern lover and collector- on one of the sides an enormous on-off switch attracts attention. At the time of this kind of magic lantern the lighting was mostly a simple oil lamp and of course they were not controlled by such an electric switch. Apart from that the model is not identifiable. The apparatus on the photograph resembles a magic lantern like a toy car resembles a car: you see it's supposed to be a car, however a true to nature scale model of an old Bentley Mk VI is more pleasant.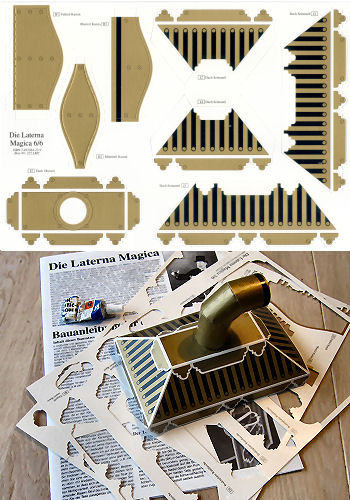 On the other hand there was admiration. One sees in one glimpse that the manufacturer had bestowed a lot of care on his product. A very good and detailed set of instructions is enclosed. In German, for this cut out is made in Germany, but also translated into Dutch. The instructions are 'step by step' and are so comprehensive that you have to be a great duffer to do it wrong. The cardboard is of a good, solid quality and all parts are clearly numbered, so that you can't exchange them. All the required components are supplied, also for the battery lighting.

During the building the admiration increases. The parts are all pre-punched and are easy to press out of the cardboard. The fold lines are pre-pressed too. Everything fits exactly and the assembling is not difficult. When it becomes a little tricky, as with the mounting of the electrical switch, there are drawings to explain it. Parts that could be damaged during use, like the bolt of the back door, are specially strengthened. The three plastic lenses have to be handled with care. Don't spill the glue and don't reverse them when mounting. The projection selection is built up as in a real magic lantern, complete with a lamp, reflector, condenser lenses and objective lenses. So the enclosed film strip can be really projected.