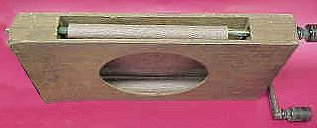 In later years, particularly where a triunial was used, it became possible to add further effects. The windows in a building could gradually become illuminated by using a slide that featured only the glowing windows and was otherwise entirely black (see: Life models, slide 3). During many dissolving views suddenly some snow began to fall. This impressive effect was contrived by means of a long strip of flexible opaque material, pierced with tiny holes and wound about two rollers in a light wooden framework. As the strip was passed upwards on to the top roller by turning a little winch handle at the side of the frame, the snow appeared to fall across the scene.

The operator had to take care that the handle was not turned in the wrong direction, which would cause the snow to fall upwards.


the accessories
With the increasing use of unframed glass slides in 3,25 x 3,25 en 3,25 x 4,25 inch formats, slide carriers became necessary. A common, simple form is the duplex carrier for two slides, in which an inner wooden frame slid from side to side.





With the aid of a special slide holder, 'Beards Universal Self-centering Eclips Single Lantern Slide Carrier', the slide to be shown next was passed in front of the one being shown. When the latter was withdrawn, the former was pressed into focus by means of a spring.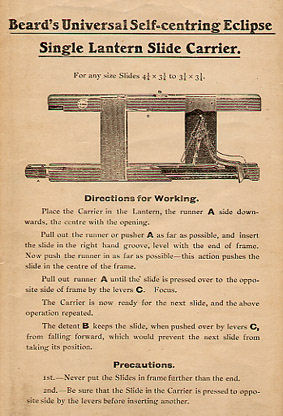 The whole assembly is 28 cm (11") long, 11,5 cm (4 1/2") high and 2 cm (7/10") thick. The slide changer 'runner' on the bottom pulls out just over 15 cm (6"). According to the instruction leaflet it is suitable for any size slide from 3 1/4" x 3 1/4" to 4 1/4" x 3 1/4". Carrier has a small insert that says 'R.R.Beard, Selfcentering Eclipse'