Gale Wollenberg
Topeka, Kansas, U.S.A.





It all started with a comic book Gale read as a boy. The book told the story about a magician who used a magic lantern to project a ghost.

Now Wollenberg, a magician by avocation, a tool maker by trade, is seen here re-creating these fascinating devices in his Topeka garage workshop.


Back in 1998 I was "surfing the net" and was putting all kinds of key words into my favourite search engine. I was searching for 'magic' or 'magician' web sites and then also some addresses came onto the screen telling of magic lantern sites.

Since my earliest recollections of where I had seen reference to a magic lantern happened to be in a comic book, I decided to search out those magic lantern sites. Three sites really impressed me; one of them was 'de Luikerwaal'. I soon found the British Magic Lantern Society web site, then found more lantern web sites and started e-mailing the site owners with all kinds of questions about magic lanterns. Soon I found myself wanting to own a magic lantern and since my trade is tool and die work and general machine work, the least expensive way to become owner of a magic lantern was to build one from scratch.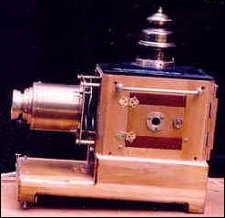 Before too long I had my first one built and planned immediately to build another. This building phase started in 1999. Soon I started making slides and doing shows. I continued building more magic lantern replicas: a Ross bi-unial, a pair of L.J. Marcys and then a third L.J. Marcy, a number of motion slides and chromotropes, a pair of Japanese "furos" for doing the minwa-za shows.

The projectors I've built are 95 percent made of recycled materials. The wood comes from old oak crates and the brass from a salvage yard. The lenses also are enjoying a second career: some come from scrapped copy machines. Once a lantern was complete, I had to trim the lens tubes to get the double image to focus at 40 feet, which is a good length for shows in front of large groups. I regularly had to reinvent the wheel at that time and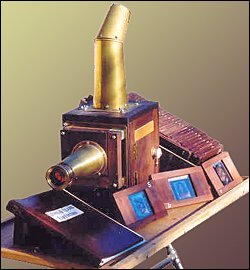 had to tinker with things to make it come out right.

Finally I decided to build a single form of a German made side by side bi-unial, the original of which was built around 1850. The reason for building this type of replica was so that I would have a lantern that represented the time period of 1800 to 1850. This would be the one for me to use for showing the Lewis and Clark expedition slides for the local schools during the bi-centennial years of this famous journey of discovery.

I even made the slides myself. I'm always looking for well-illustrated books published before 1900. Publications that old would be no longer protected by copyrights. I photocopy the illustrations from the old books. Then I colour the image and photocopy it to a transparency, reducing the image to the correct size for a slide, 3 1/4 inches square. Since they're basically etchings, they transfer really well to transparency. I also made my own slide version of Charles Dickens' "A Christmas Carol" in this way.