Trade marks
Magic lanterns made by Bing are characterised, and mostly easily identified, by their trade marks, which were applied by means of transfers or embossed, either directly on the tinplate of the lantern or stamped on a separate badge-like metal plate affixed to the lantern.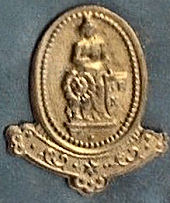 1890s-1906. The goddess Bavaria with a shield with the initials G.B.N. in several forms.






1906-1923. Diamond with the initials G.B.N. with radial lines in several forms, sometimes with the addition 'Bavaria'.






Occasionally, to 1932, -34. A logo of a horizontal B over a broad W (for Bing Werke)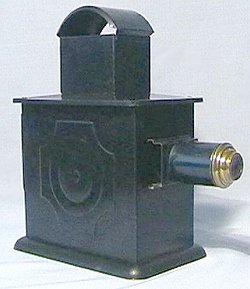 Model 'Pharus'. This Magic Lantern has the GBN diamond trademark and the patent D.R.G.M. mark impressed on the back. The back hinges up to make the lamp house accessible. The base measures 6 x 4 inches (15 x 10 cm) and the lantern stands 8 inches (20 cm) high to the top of the chimney. The remarkable top of the chimney differs from the common ones.