James W. Queen & Co. were American manufacturers of among other things optical goods, magic lanterns and slides. Initially James was an employee of McAllister & Son but in 1853 he formed a small business in optical and philosophical apparatus in Philadelphia. In 1859 he joined with Samuel L. Fox, and after Queen's retirement in 1870 Fox continued the business under the title of James W. Queen & Co. It continued under this name until 1893, when it was incorporated as Queen & Co. For a number of years there was a branch office in New York City. In 1912 the company was reorganized as the Queen-Gray Co. by John G. Gray and continued as such until Gray's death in 1925, after which it became the Gray Instrument Company. Queens self-condensing gas cylinders, awarded with a medal from the Franklin Institute in 1874, hastened the replacement of gas bags with safer and more compact metal gas cylinders.

From the Scientific American, April 28, 1888:

..... In time the business became so large that it was found necessary to arrange the different branches under different departments, with a competent man at the head of each department.
There are at present six departments, arranged under the following heads: physical and chemical, engineering, ophthalmic, microscopical, the magic lantern department, and the photographic department. The headquarters of these departments are at 924 Chestnut Street, Philadelphia, at the site occupied originally by Mr. Queen. But, the business having enormously outgrown the building, some departments were obliged to seek quarters for apparatus in other buildings in the vicinity of the main offices of the establishment.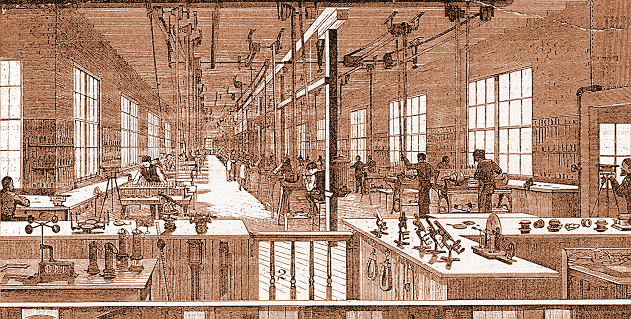 ..... In the department known as No. 5 may be found astronomical instruments and apparatus for projection. .... In the branch devoted to projection there are various forms of lanterns which are under the names of sciopticons, stereopticons, college lanterns, for entertainment as well as for instruction. Some of these lanterns are provided with powerful petroleum lamps of new design, which compare favourably with other illuminators. As might be expected in an establishment like this, a large stock of pictures for use with the lanterns, embracing educational views, diagrams, and pictures of various physical apparatus are kept on hand.