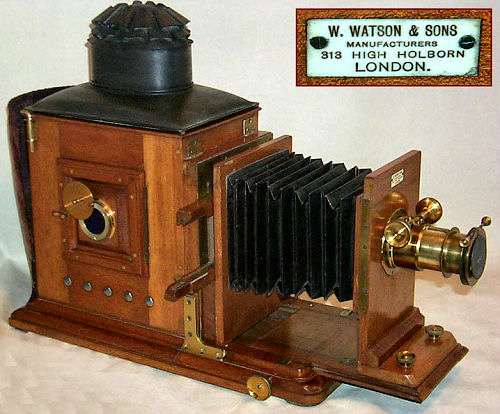 Another fine mahogany and brass magic lantern made by W. Watson & Sons, London, circa 1895. The optical system features a central bellows, with rack and pinion focusing for a John Wrench 12 1/4" lens. On both sides is a panelled door, with a round brass-bound blue glass window. A velvet curtain at the rear is mounted on a bended brass rod and has a hole cut in it for viewing at the lighting system.

The height of the lantern is about 20" (51 cm) to its double crinkled chimney roof and its base measures about 11" x 21" (28 x 53 cm), or 27" (68 cm) when the lens on its mahogany platform is fully extended.

The brass lens is signed "JW" (for John Wrench) and "London Made", Wrench's Trademark insignia, on the lens cover. The present 12 1/4" Wrench lens is believed to be his longest. It features rack and pinion focus, a small draw tube, and it works with a bellows mechanism for achieving its full extension. The entire lens assembly is hinged at the top and can be raised up for easy access to the condenser or slide area. The front of the lens assembly can be fixed to either of two pairs of threaded rests, for different extension of the bellows.