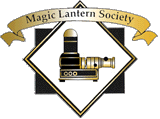 The Magic Lantern Society of the United States and Canada© was founded in 1977 by those who shared a common interest in the magic lantern and lantern slides, coupled with a desire to promote a greater appreciation of the subject in the United States.
Members meet regionally and country wide as well as individually presenting exhibits, lanterns shows and sharing information, not only in the United States, but abroad as well.
A newsletter and other publications are issued periodically to the members.



The purposes of the Society are:
To establish an organization of persons and entities interested in the collection, possession, conservation, restoration, and maintenance of magic lanterns, lantern slides and related material.

To encourage member persons and entities to share their knowledge of the magic lantern, lantern slides and related material with any interested persons or entities.

To coordinate research, catalogue material and disseminate all information about the history, uses, and development of the magic lantern and lantern slides.

To promote exhibition and shows of magic lantern equipment, lantern slides and the known methods of use in as historically accurate a manner as possible.

Some benefits of joining:

Annual Membership Booklet: A yearly Membership Booklet lists a Directory Covering members and their interests such as types of lanterns, slides, literature, kinetic devices and vintage cinema.

The Magic Lantern Gazette publishes original research articles and news items related to the history and culture of the magic lantern, magic lantern collecting, and related topics. Articles can be on the history and use of magic lanterns in any part of the world and can include not only technical articles on magic lantern projection, but also articles on references to magic lanterns in literature, in advertising, and other cultural contexts.

E-Publication: A monthly newsletter that contains any material that relates to the magic lantern and it use. Its purpose is to provide a publication for members to share information about upcoming events, items of interest and For Sale/Wanted items.