Anton Pieck, his life and his work

Anton Franciscus Pieck was born in Den Helder on April 19th 1895, together with his twin brother Henri, and died in Overveen on November 24th, 1987.
He began to display an aptitude and appetite for drawing and painting at a very young age.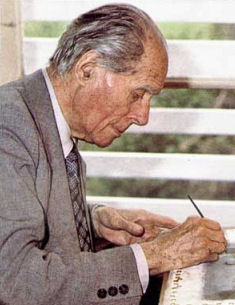 Already at the age of 11, he wins a price for an oil painting of a still life. At the age of 17, he obtains his drawing certificate secondary school. From 1920 until his retirement in 1960, Pieck is attached to the Kennemer Lyceum in Bloemendaal as a drawing-art-master.
The work of Anton Pieck contains among other things paintings in oil and watercolour, etchings, woodcarvings, engravings, litho's, traveldrawings and (book-) illustrations.
His birth announcement cards, calendars, and Christmas cards are widely known.
He receives several prices for his work, including the Dr. Egerton-Crispin-price (in 1929 for his own exlibris).
In 1952 the Dutch Fairypark 'De Efteling', designed by Pieck is opened. Later he designs by order of the family Lips, the 'Autotron' in Drunen, which was finished in 1972.
Regularly, exhibitions of his work are being organised.
On June 16th, 1983 a bronze 'Head' of Anton Pieck (designed by Kees Verkade) is revealed in Overveen.
In 1984, on September 6th, the Anton Pieck Museum, in Hattem was opened officially by HRH Princess Margriet.
His great carrier came to an end in 1987, but his work will live on for centuries to come.