Bonnet and Bakkerus.

Peter Bonnet was four years old when he saw his first magic lantern show, given by his uncle Freark Bakkerus who used to travel with various fairs. "Uncle Bakkerus" used a ten year old Hoffman lantern, which he bought at a moderate price from the well-known retailers in 'scientific toys' Merkelbach & Co. in Amsterdam. He always ended the show with a slide showing a man with a monkey. "The man who kidnaps naughty boys", as Bonnet used to say. After the show Peter's friend was found in a cupboard and Peter himself was hidden, coiled up like a snail, in an empty peat-box.

The Hoffman lantern from 1870 became the first piece of his collection which he started at the age of 17.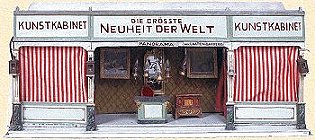 Bakkerus (1863-1944) travelled the fairs in the company of his then unmarried sister Martha (who became Peter's mother) with his panorama "Het Volksmuseum". By marrying the daughter of the former female owner he became the proprietor of the "Art Gallery van Laaten", where one could find stereoscopic prints and other optical tricks. After the death of Bakkerus' wife, Peter and his mother joined him on his trips abroad.

The exploitation of the Art Gallery stopped in 1910 due to the growing competition by the "Cinematography". The family returned to the Netherlands and took up residence in Drachten. Reluctantly Peter went to the Technical School whilst his uncle kept on travelling about with a large magic lantern and some viewing devices, left from the Art Gallery with which he gave educational shows" in schools in 1930. The 17 year old Peter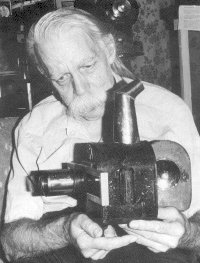 studied mathematics and free-hand drawing and in 1924 he went to live with his parents in the Frisian town of Sloten where he became a teacher first and later on the headmaster of the Technical School in Sloten.

Bonnet used to come in the possession of new collectors items by swapping them for tobacco coupons, or for lanterns of lesser interest. Bonnet restored the mostly abominable looking lanterns and slides carefully, until working with his hands became difficult, caused by a stroke in 1955.

At the age of 80 he was honoured with the gold medal of the Order of Oranje Nassau a.o. for his efforts in founding his Museum "Laterna Magica". Many of his visitors will remember the priceless and humorous stories told by Bonnet in a lyrical way during the tours in his museum, at that time situated in his home at some distance from the place where his collection is being showed today.
Reference text Bonnet en Bakkerus: Van Toverlantaarn tot Kinematograaf, Vera Tietjens-Schuurman. 1979, Rottevalle Friesland.

Photograph Bonnet with his Hoffmann lantern: Van Toverlantaarn tot Kinematograaf.

Art gallery 'Die grosste Neuheit der Welt', copy after the original from 1874, made by model builder A.A. van der Velde, Stedhûs Sleat Museum, Sloten, by order of Peter Bonnet.