This 178th Suske and Wiske adventure starts one sunny summer morning. Lambik is loafing about the famous flea market of

Antwerp. Suddenly his eye is drawn to a beautiful antique magic lantern. A magic lantern! Just the very thing for the children! Only a few moments ago the sly merchant bought the lantern for a mere song from a poor little schoolboy, but of course Lambik does not know this. In that case he would never have paid the 5000 francs the man was asking for it.

Of course he wants to pay less, but the merchant becomes completely overwrought when Lambik tries to beat down the price: 'I'M GIVING everything AWAY. It's absolutely FREE.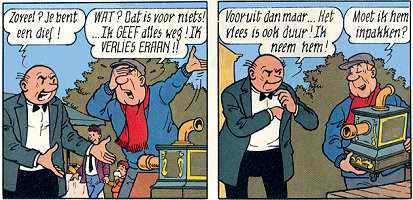 I'm making a LOSS!' Lambik realises that this man must be goodness personified and so he pays, though still muttering a little to himself, the high asking price and that makes him the proud owner of the device. Never mind, Suske and Wiske will be delighted, he thinks.

He sets out immediately to Sidonia's house to show her his new purchase and to surprise the children.

Alas, the young people don't react as he expected and are not wildly enthusiastic about the magic lantern at all. Actually they don't have any idea what it is and they can't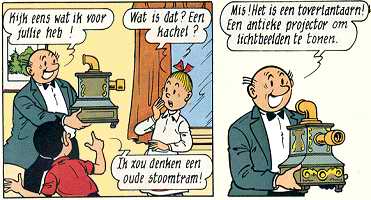 imagine how they could use such a curious thing. After Lambik's explanation they understand that it's a device to project pictures on the wall, but they exclaim: "Ours is much better, you know. We have an adjustable aperture, automatic slide-changer and remote control for focussing." Lambik hardly manages to suppress his rage and disappointment and goes to work. There are some glass slides with the lantern, so he can immediately give those foolish children an instructive demonstration.

The room is quickly darkened and a large, white sheet is stretched across the wall. A little later the first picture appears on the screen. The surprised spectators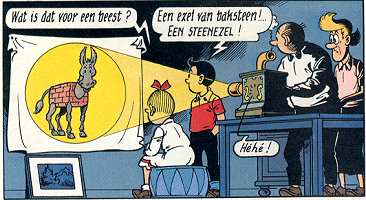 look at an animal they've never seen before: a donkey with a trunk of bricks, a STONEDONKEY!

That's the start of a strange and exciting SUSKE EN WISKE story. Of course we will not tell you how the story continues, but one thing we can give away: there is a happy ending!