Projecting a hologram is reminiscent of an optical trick to create the illusion of a ghostly appearance using a magic lantern. This trick was already shown in theatres around 1870 and was known as Peppers Ghost, because John Henry Pepper, a London chemistry professor, was the first to succeed in performing this illusion on the stage.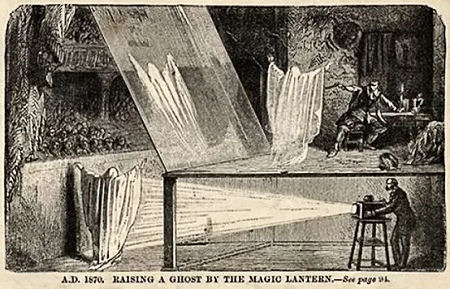 How it works:

A glass plate, which has been turned at an angle of 45 degrees, has been placed between the stage and the audience. In front of the stage, in a place that is not visible to the audience, stands the person who must appear as a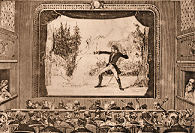 ghost. This person is illuminated by the bright lamp of a magic lantern. The audience then sees the reflection of the person in the glass plate, but because one can see through it, it looks like a ghost on the stage. This illusion can be reinforced by a player on stage who cleaves the 'ghost' several times with his sword. By slowly turning the lamp on or off, the ghost is made to slowly appear or disappear.

The trick could of course also be performed with all kinds of objects, but that was a bit less spectacular.