The artist.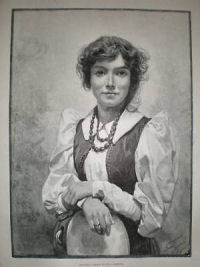 Alf J. Johnson. Portrait printed in an 1893 issue of the UK weekly newspaper The Illustrated London News. The newspaper employed many talented artists and engravers to illustrate the news and events and to entertain the readers.
The Publisher.





The name of the publisher on the first slide is partly covered by a label reading 'By permishion of F.WARNE & Co'. Probably the images were taken from a children's book published by Warne.

Frederick Warne & Co was a British publishing firm famous for children's books, particularly those of Beatrix Potter (Peter Rabbit). It was founded in 1865 by a bookseller, who gave his own name to the firm.
During the second half of the nineteenth century, Warne built a reputation based upon its children's list, publishing illustrated books by well-known authors and artists. Toward the end of the century, Warne retired and handed the management of the business over to his three sons.
The Seller.

All the slides are labeled "W. R. 246 Sauchiehall Street" - a shop in Glasgow. W.R. stands for William Roberton.

Some slides are also labeled: