The regular soldier. A beautiful series of five hand painted glass magic lantern slides made by Carpenter and Westley, 1860's.
They are titled: General Officer, Colour Sergeant, Staff Officer (undress), Staff Officer, Royal Artillery.

Sizes 18 cm x 10 cm or about 7" x 3 3/4".

Three slides of a larger life model set entitled PLEASE MR. CONDUCTOR DON'T PUT ME OFF THE TRAIN. Copyright 1899 by J. D. Cress, who was a photographer active in Upper Sandusky (Wyandot U.S.A.) in 1887.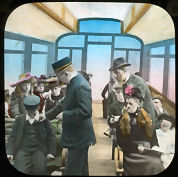 The slides are 4 inches wide and 3 1/4 inches high and are made after a popular song in those days: A stern old conductor started to take the tickets of everyone in the train. 'I haven't a ticket,' the boy confessed, 'but I'll pay you back some day'. 'I must put you off at the next station then!' the conductor said but stopped when he heard the boy say: 'Please, Mr Conductor, don't put me off the train. This morning a letter arrived, it said -Come home, mother's dying-. She's expected to die any moment, and may not live through the day. I want to bid mother good-bye, sir, before God takes here away'
A little girl close by then said, 'If you put that boy off it's a shame'. Then taking his hat, a collection she made, and soon paid the fare.

Another set of the same name is made by Bamforth and consists of c. 21 slides (see example).