A collector (the webmaster, Henc de Roo) tells how he started to collect magic lanterns.




Photos:
- My first magic lantern, very special chimney pot, springy slide holder, blue tin, made by Johann Falk, Germany 1900.

- Magic lantern provided with a build in oil lamp. Upper and lower part are joined by a hinge, manufacturer and country of origin unknown.

- Long magic lantern slide made by G.B.N. with 4 pictures.

- 'Father tells us about Xanthippe'. Collection Digitale Bibliotheek voor Nederlandse Letteren.

- The webmaster in front of a part of his collection. Photo: Irene Popken.
When I was born almost eighty years ago, the sun was in the constellation of Cancer and that started, astrology teaches us, that I was destined to become a collector.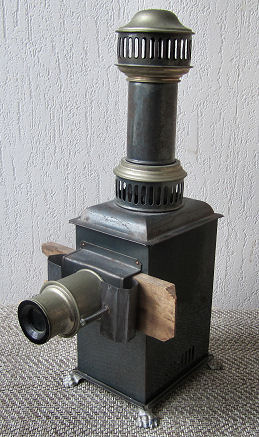 Being one of those who can never dispose of old things and whose cupboards protrude with togs and duds which 'may at some time be of use for some purpose as opportunity occurs'.

At a very young age, I already enjoyed putting on shows for my friends and classmates with the filmstrip projector I got for my birthday. I always played the next picture and in the meantime told exciting stories, such as the Adventures of Kapitein Rob, which were very popular in the Netherlands.

I bought my first Magic Lantern for twelve guilders on a flea market in Haarzuilens near Utrecht (NL). The asking price was fifteen guilders, but haggling is customary on a flea market of course. I was touched by the beautiful chimney. Not the smooth, bent or broken chimney that most lanterns have, but a chimney that reminds one of the the funnel of old steam locomotives driving around in Wild West-movies. The lantern immediately brought back memories of that first filmstrip projector and the performances I gave with it. This one was much older and still had an oil lamp as a light source instead of an electric light bulb. It was manufactured by the Nuremberg toy maker Johann Falk, but I didn't know that in those days. I didn't know anything about magic lanterns at all! It acquired a nice place in the living room and so far nothing is the matter. However, somebody who saw it there, made me a present of a second one. It appeared that his neighbour's wife had almost given it along with the refuse collector. Now I possessed two specimens, so I had a collection.

From that moment I was scouring all the flea markets, inserted advertisements in house organs as well as free local papers ('door-to-door' distribution) and little by little my collection started growing. Many lanterns were covered with dust, dirt and tens of years of rust. I cleaned them thoroughly, polished and restored them if necessary. Pretty soon my collection comprised some tens of lanterns, but these last few years the offer has been slowing down. The reason is that the group who 'may have some redundant things in the attic' is getting smaller and smaller.

In order to recognise each lantern of my extended collection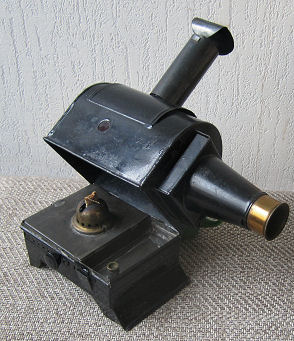 I have given a name to most of them: the first, of course, carries the name of 'Haarzuilens'. Another one 'Mrs Van Hunnik', after the generous donor. I also have a 'Little Egg', a 'Battleship' and a 'Leydenaar' (originating from the town of Leyden NL). A film projector is named after its previous owner Frits Thors, the once so popular snow-white haired Dutch TV-newsreader. All those lanterns take up much room, are terrible dust-traps and have to be protected constantly against rust and decay. But I cannot do without them any more, they all have their own story and they've kind of become part of my family, even though I've stopped naming them now that I have hundreds of them.

In the course of years I became less active in the field of collecting. Fewer jumble sales and antique shops for me. However this does not mean that I lost my interest in magic lanterns. It was and stayed an important hobby.

Another hobby of mine was working with computers. Two totally different worlds of course, but I found that it was possible to combine the two in a significant way. Internet was in development. Some twenty years ago I conceived the plan to 'do something with web sites'. A short examination showed me that a Dutch magic lantern site did not yet exist, so could I ever find a better subject for my new site than the magic lantern?! When I see again the images of my first attempts I can laugh and cry in turn, but soon 'de Luikerwaal' developed into a world wide very appreciated website. Because I realized that the Dutch speaking region is rather small, I produced the site from the beginning in two versions, Dutch and English. Now I get a lot of responses from all over the world. Tietjerksteradeel (a small village in the Netherlands), Italy, Japan, Canada and from everywhere, and that is simply great fun. Usually those reactions are also accompanied by questions, more than I would like because answering takes a lot of time. Time that I would rather spend expanding the website, but I try to do it as much as possible. I try to serve the visitors of the Dutch version as much as possible with an FAQ (frequently asked questions). There were times when expanding the website filled a full working day, sometimes even adding overtime in the evenings. That has decreased now, but with some interruptions there are still uploads almost daily, sometimes just one image per day, sometimes a whole series and sometimes a completely new item. The website has since grown into a virtual museum.






Oh.... I almost forgot. What is really so funny about a Magic Lantern? Well, that's because it is not just a simple device. It's more. The special sphere hanging around a Magic Lantern cannot be characterised better than by quoting below an anonymous poet, whose poem I found in an old children's book: