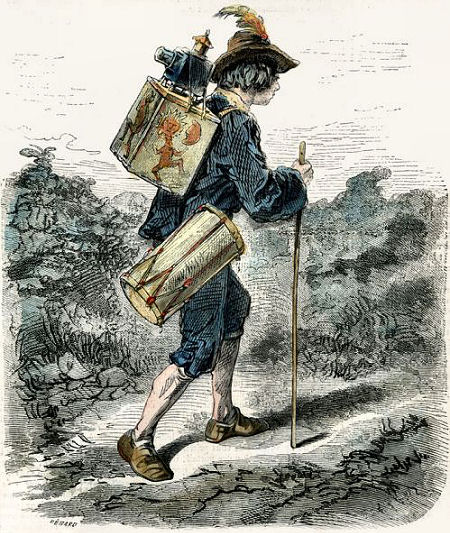 Probably foreigners will need a long time to pronounce the name correctly :-)
Click on the image above to hear the pronunciation of 'de Luikerwaal'
(not on every browser available).
A Luikerwaal? I'll try to explain.

In the beginning magic lanterns were mostly used by scientists, but soon various people realised that it was a good business and took advantage of it. For instance the 'Luikerwalen', people originating from Wallonia, Belgium (Luik + Wallonië = Luikerwaal). Catching and killing rats had been their main activity, but when the government had prohibited them to carry the dangerous rat-poison throughout the country, they had to find a new source of income. They started travelling all over the country to give magic lantern shows on fairs, pubs, weddings and so on. The magic lantern and accompanying slides they carried on their backs, were built by themselves in most cases.

The image of the wandering lanternist that many years later in a slightly adapted version should serve as a logo for the website 'de Luikerwaal' was originally published in black and white as frontispiece of the book 'D'apres Nature' (From Nature) by Paul Gavarni (ca 1840).

Paul Gavarni was the pseudonym of Sulpice Guillaume Chevalier (1804–1866), a French caricaturist, born in Paris. He began life as an engineer's draughtsman, but soon turned his attention to his proper vocation as a cartoonist.