The Ernst Plank Company was seated in the Hochfederstrasse 40 in the German toy town of Nuremberg. In 1866 it was enrolled in the Commercial Register of Nuremberg as 'Ernst Plank, Fabrik Optischer und Mechanischer Waren'. Besides magic lanterns the firm also made all kinds of tin toy steamboats and train sets. Ernst Plank was the second largest in Nuremberg, after the 'Gebrüder Bing'.

Almost all the lanterns from Plank are supplied with its trade mark, bearing the initials 'E.P.'. Sometimes this mark was simply pressed in the tin, mostly a roundel was fixed to the lantern by means of two small clips.





Also the label on the boxes always show his well known mark with the winged wheel. By this Plank's lanterns are always easy to recognize.

The company survived the First World War, but magic lantern production gradually ceased in the 1920s. In 1930 the factory was sold to Hans and Fritz Schaller, who specialized in home movie equipments. After World War II their company was known as Noris Projektion GmbH.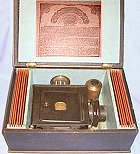 Usually the magic lanterns were sold in solid cardboard boxes or in wooden cases, which were able to contain one or two sets of slides and some other accessories as well. Most of the time the directions for use were glued on the inside of the lid; a colourful label often adorned the top of the box. Many of these labels are a real work of art.
'Kinematador N°790', 1897.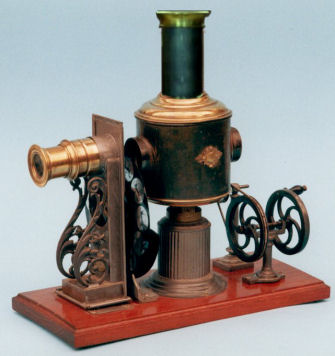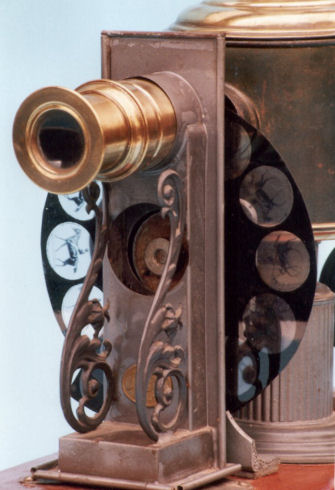 Though this type of lantern also has been produced as a 'normal' magic lantern (see below), this superb projector is

supplied with a mechanism with a handle, flywheel and rotating shutter, that offers the option to show moving pictures. By turning the crank, one makes rotate a disc of twelve slightly different circular images, thus obtaining the effect of movement. The system is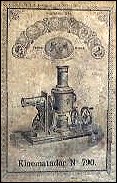 adaptable for the use of normal glass slides too. Light system with oil lamp.

The original wooden box is labelled and numerated '1/12', made in Germany.
Dimensions: box: 14 x 10 x 8 inches (35.5 x 25.5 x 20 cm); lantern: 13 x 5.2 inches (33 x 13 cm), height 12.1 inches (31 cm).