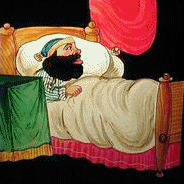 There are many, many mechanical moving slides produced in the time the magic lantern was in use. They were provided with slipping plates, pulleys, levers, rackwork and other arrangements, by means of which life and motion were apparently imparted to the objects exhibited. By far the most popular moving magic lantern slides of the nineteenth century was the 'Man eating Rats' (or mice). The sleeping man who swallowed a living mouse (or rat) became a real classic and was produced in a good many designs, in both rackwork and slipping-slide versions. The audience enjoyed the performances, complete with the requisite snoring and chomping and lip-smacking noises and often participated by snoring along with the sleeper or counting the rats consumed.

In the cheapest version the man eats only one rat. The more luxurious versions have the rat, or rats, painted on a rotating circular side beneath the image of the man, giving the impression of a never ending stream of rats or mice.

According to 'The Engineer' the English slide painter C. Constant was the man that 'has made himself immortal by painting the original of the world-famous slide of the sleeping man swallowing rats'.

Performances are still a favourite with kids (of all ages) today.