The Russo-Japanese War.

The Junior Lecturers' Series was produced by W. Butcher & Sons, London (1870-1906) under the trade name of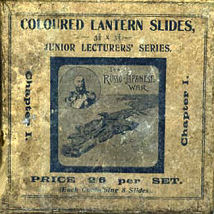 Primus. The slides were sold as a set of eight in a cardboard box. The prize of each set was initially about two shillings but at the end of World War I the price had more than doubled. Size of the slides: 8,2 x 8,2 cm (3 1/4" x 3 1/4").

The set dealt with a lot of topics, varying from comical children's stories and fairy tales to....... visual descriptions of great wars. The last mentioned are classified under the series B, which were accompanied by a sheet of paper with the accompanying texts. They consisted of multiple parts of eight slides a box.

The series contains slides on the Boer War (5 parts 701-705, see here) and the set shown below on the war between Russia and Japan (2 parts 727-728), from 1904-1905, the first great war of the twentieth century.