Though nothing of Saint George's life or deeds can be established, legends about him became popular and increasingly extravagant.

George became venerated throughout Christendom as an example of bravery in defence of the poor and the defenceless and of the Christian faith.

The banner of St George, the red cross of a martyr on a white background, was adopted for the uniform of English soldiers possibly in the reign of Richard 1, and later became the flag of England and part of the flag of the United Kingdom that is actually three flags in one. (It is made up from the England flag, the Scotland flag and the patron saint of Ireland's flag.)

In more modern times, St George was chosen by Baden-Powell, its founder, to be patron of the Scouting Movement, and on St George's Day, scouts are bidden to remember their Promise and the Scout Law.

There are many versions of story of St George slaying the dragon, but most agree to the following:

A town was terrorised by a dragon. A young Libyan princess had to be offered to the dragon and when George heard about this he rode into the village, slayed the dragon and rescued the king's daughter in return for a promise by the king's subjects to be baptized.

Saint George became an ideal of martial valour and selflessness. He is the patron saint of England. Feast day April 23.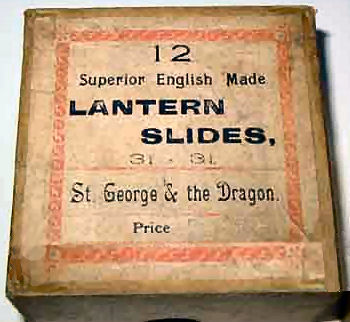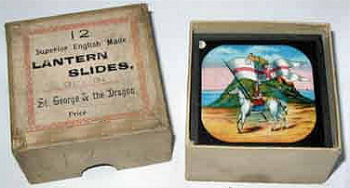 Set of twelve square 3.25" magic lantern slides in a cardboard box.