Ciné "Sélic"

Le Ciné "SELIC" Breveté permet à chaque enfant de donner chez lui de belles représentations cinématographiques à peu de frais.
En effet, il projette des films de 25 cm. de long qui donnent des projections d'une durée de 5 minutes. Une durée de projection semblable ne peut être obtenue avec un autre Cinéma que le "SELIC" qu'avec des films ayant 40 mètres de long et dont le prix équivaut à celui de 20 films "SELIC" environ.
Les films, très variés, montrent des aventures gaies, des contes de fée, des films instructifs et de nombreuses projections toujours intéressantes.
Ils peuvent être projetés sans le secours d'un écran, sur une porte blanche, sur le plafond et même sur un drap de lit, à la distance d'un mètre.

Le Ciné "SELIC" est d'une construction ingénieuse. Le boîtier est en matière moulée de belle présentation, d'une forme moderne et d'un fabrication extrêmement soignée.
Le Ciné "SELIC" est un des rares jouets pouvant être utilisés par un enfant malade, car celui-ci peut projeter sans danger des films "SELIC" dans son lit, étant donné que le courant électrique est fourni par une pile identique à celle employée pour la lampe de poche.

Les films "SELIC" sont des films ininflammables, leur emploi est absolument sans danger.
En cas de panne pour une cause indétreminée, il est conseillé d'expédier, par l'intermédiaire d'un dépositaire, le Ciné "SELIC" à la fabrique, où le nécessaire sera fait rapidement.
Le Ciné "SELIC" est en vente dans tous les grands magasins, bazars et commerces de jouets, photographes, etc...
Ciné "Sélic"

The "SELIC" patented cinema allows each child to give at home beautiful cinematographic performances at low cost.
Indeed, it projects 25 cm films.long which give projections of a duration of 5 minutes. A similar projection time can only be achieved with another cinema than the "SELIC" with films that are 40 meters long and whose price is equivalent to about 20 "SELIC" films.
The films, very varied, show gay adventures, fairy tales, informative films and many always interesting projections.
They can be projected without the help of a screen, on a white door, on the ceiling and even on a bed sheet, at a distance of one meter.

The cinema "SELIC" is of an ingenious construction. The case is made of molded material with a beautiful presentation, a modern form and an extremely neat workmanship.

The "SELIC" Cine is one of the few toys that can be used by a sick child, because it can safely cast "SELIC" films in its bed, since the electric current is provided by a battery identical to the one used for the flashlight.

"SELIC" films are non-flammable films, their use is absolutely safe.
In case of failure for an indetrined cause, it is advisable to send, through a depository, the Cine "SELIC" to the factory, where the necessary will be done quickly.

The "SELIC" cinema is on sale in all department stores, bazaars and toy shops, photographers, etc ...
The animation principle is simple but clever: the film has two superimposed series of images
and, while the film is moving, the projector alternately displays an image of each series, creating an illusion of movement in chained sequences.
The result was satisfactory, the stories were well built to exploit at best the alternating images and slow scrolling movement of the film.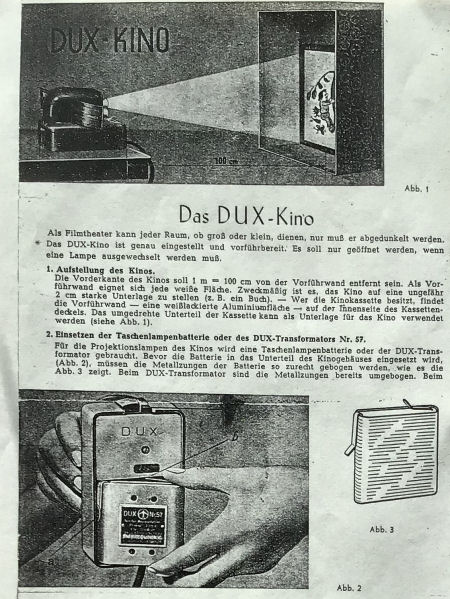 First page of the DUX-instructions.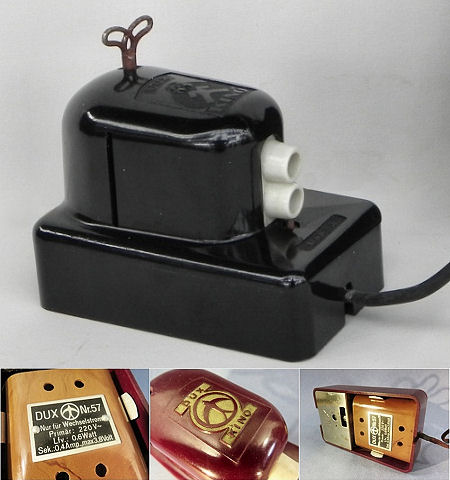 The DUX Kino, model 3 has been made by the Dux Fabrik Markes & Co K.G. Lüdenscheid / Westfalen in Germany and looks exactly like the Ciné Sélic, with the exception of the trademark on top of the projector. The pictures above show that the battery could be replaced by a 220V mains adapter.