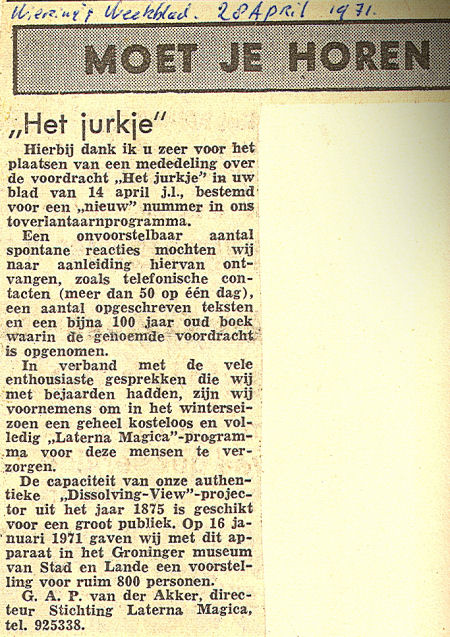 When Gérard could lay hands on a set of slides from which he did not know the story that it depicted, he sometimes made an appeal to the elder people who possible could know about the topic, in the paper.

That was the case with 'Het Jurkje' (The little Dress). He got a lot of telephone calls from people that remembered the little dress, a recitation for weddings and other parties by Eugène Manuel, translated and revised by J.L Wertheim.

The story is a real tear-jerker: it deals with two unlucky people who want to part and therefore have to divide their possessions. They cannot come to an agreement about the little dress of their early died little daughter and that's why they finally decide to stay together.

Two aged women had quoted the whole poem from memory and it filled ten sheets when they wrote it down! Some others recited it on the telephone.


The set of slides is made by the Dutch glass painters and manufacturers of Life model series, Hermanus van Staveren and his son Jacob. A coloured version, an extensive investigation, and a description we find in Dutch Perspectives by Annet Duller a.o. Van Staveren was the only one in the Netherlands to personally create Life Model productions and he did this in a relative short period until he was overtaken by the enormous importation of English material. The man and the woman acting on the slides could be Van Staveren's parents, according to Duller. Dutch Perspectives shows the set in colours; below is the set in black and white.