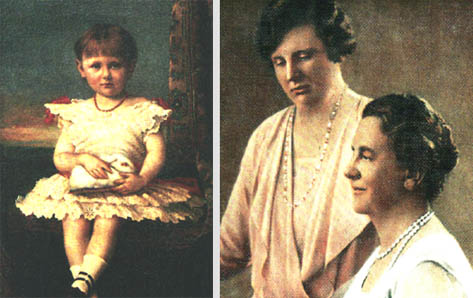 Wilhelmina as a princess (l) and as a queen, together with her daughter Juliana (r).
Wilhelmina,
in full: Wilhelmina Helena Pauline Maria (born Aug. 31, 1880, The Hague--died Nov. 28, 1962, Het Loo, Neth.), queen of The Netherlands from 1890 to 1948, from the House of Oranje-Nassau. Through her radio broadcasts from London during World War II, made herself the symbol of Dutch resistance to German occupation.
The only child of King William III and his second wife, Emma of Waldeck-Pyrmont, Wilhelmina became heiress to the throne on the death of her half-brother Alexander in 1884 and queen on her father's death (Nov. 23, 1890) at the age of ten, under her mother's regency. She was inaugurated Sept. 6, 1898, at Amsterdam's Nieuwe Kerk. On Feb. 7, 1901, she married Duke Henry of Mecklenburg-Schwerin and gave birth to a daughter, Princess Juliana, on April 30, 1909. She governed the country for half a century. After abdicating the throne to Juliana on Sept. 4, 1948, because of poor health, Wilhelmina retired to her palace, Het Loo, near Apeldoorn. Her memoirs, Eenzaam maar niet alleen (1959; Lonely but Not Alone, 1960), reveal the deep religious feeling that dominated her life.