In the Netherlands the name Merkelbach has always been inseparably associated with the magic lantern. The famous toyshop in Amsterdam sold not only the lanterns and lantern slides, but also manufactured them itself. One of its clients was a little princess, Wilhelmina of the Netherlands.




Source: Van Toverlantaarn tot Televisie. Een handvol herinneringen aan 125 jaar Merkelbach en Co. (From Magic Lantern to Television. A handful of memories of 125 years of Merkelbach & Co.), recorded by John Bakkers, published as a present to business relations on the occasion of the 125th anniversary of the firm. (not available in the book shops)
The year is 1870. Edison has yet to invent the electric light bulb and it will still take another fifteen years before Siegfried Marcus drives from his workshop the most ridiculous looking contraption on wheels, which turns out to be the very first motor vehicle.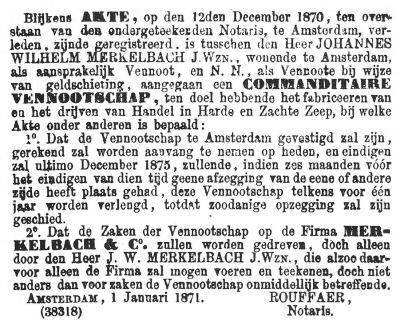 In Amsterdam on December 12th, the official deed is sealed on the name change of the firm Merkelbach and Son, which becomes J.W. Merkelbach en Co., a limited partnership, based on the Kloveniersburgwal, "the purpose of which being the fabrication of and the conducting of trade in hard and soft soap". It soon appears that this Merkelbach's son, also bearing the initials J.W., is much less devoted to soap, dyes and haberdashery than his father. All sorts of strange novelties of modem technology attract his interest far, far more. Such as the ingenious magic lanterns used in giving entertaining "Lantern-lectures", and photography. The interest J.W. Merkelbach jr. takes in technique also attracts him to the great foreign exhibitions such as the Leipziger Messe,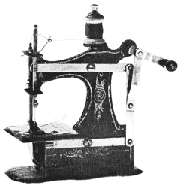 from which he returns, again and again, with fancy goods, which gradually change the character of his father's business. The technical toys form such a huge part of the assortment that the business is soon in need of more spacious premises. These are found on the corner of the Nieuwendijk at numbers 57 and 59, with a view of "The Bijenkorf Warehouse", still a simple shop at that time, on the opposite side of the road. Merkelbach is on good speaking terms with his neighbours and gives them as much assistance as he can. In exchange for this, he is offered founder's shares. The conservative Mister Merkelbach declines the offer, believing such a new-fashioned bumper-concern to be a far too hazardous a venture.