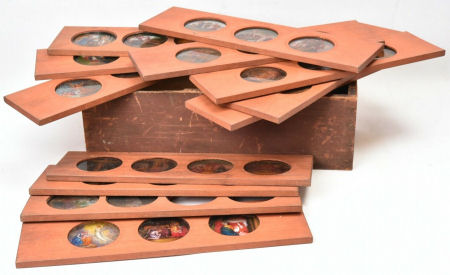 A beautiful set of 12 magic lantern slides. Round glasses in an elongated mahogany frame, dimensions 35 x 10 x 1 cm. Circa 1870.
Various Biblical subjects from the Old and New Testament.

All slides have an embossed text: 'COPPER PLATE SLIDES. SCRIPTURE SUBJECTS ', together with a number from 1 to 12, and the name and address of the manufacturer' Carpenter & Westley, 24 Regent Street, London '.

Most slides have three round glasses with pictures, four of them have four glasses.