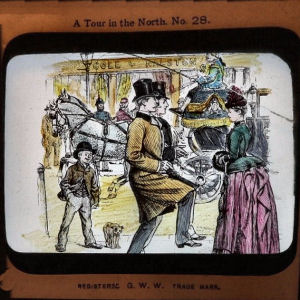 The customs officer and poet Evan MacColl was born on September 21, 1808 in Kenmore, Scotland, as the son of Dugald MacColl and Mary Cameron, and was buried in Kingston in 1898.

In 1831 the MacColls immigrated to British North America, but Evan stayed behind. Five years later he published "The mountain minstrel", poems and songs in English and Gaelic at his own expense.

The following year MacColl was appointed as customs officer in Liverpool. In 1850, after a period of poor health, he obtained a six-month leave to visit his family in Canada.

MacColls often wrote about the Scottish landscape, about love and about political events. The Celtic Magazine, 6 (1880-81) published a series of articles on MacColl that was concluded with the publication of a part of the diary of the poet as "Extracts from notes of a tour in the north of Scotland in 1838-39". Probably the images on the slides are taken from this article.