Two very special kinds of moving slides are
The Dissolving View and the Effect Slide.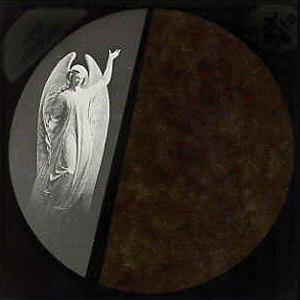 There is a small but important distinction of definition between dissolving views and effect slides. Dissolving views, as the name implies, dissolve into each other. They overlap each other completely.

Effect slides however superimpose a special effect over a scene. Popular effects include rainbows, dreams and visions, fires, and angelic or ghostly apparitions.

Well-known effect slide sets are 'A soldiers dream' (see below) were a wounded soldier at the front is dreaming of his beloved family at home, and 'Tower of London on Fire'. Also some Life Model slide sets make use of those effects. When Jane Conquest is praying for strength and inspiration, an angel appears in her cottage room. The two or more slides that we use for such an effect are quite different. We distinguish a slide with the scene, e.g. the small house of Jane, and the slide with the object that has to be superimposed, in this case the angel.